High-functioning autistic
V.I.P Member
I know a lot of people here do lots of different arts and crafts. I'm hoping maybe you have some suggestions.
So, I have a lot of buckyballs (small magnetic balls,
like these
). I love to fidget with them and I make all sorts of geometric shapes with them. I had a bunch in different colors, but decided that I wanted them all to be the same color so I could make bigger things without worrying about color coordination. So, at my wife's suggestion, I bathed some in acetone to remove the outer layer of colored paint. It worked great so I decided to do the rest.
Here's where I messed up. To do the next batch, I bought some acetone that wasn't just acetone - it had "nail strengthening" chemicals and other stuff in it. But it destroyed the paint and the protective coating underneath! Now those buckyballs have a rough and ugly surface that prevents the magnets from sliding into their optimal alignment when I use them. And, when I work with those ones, my fingers wind up discolored with a dirty dark grey film.
In this picture, the top group is buckyballs that were originally silver colored, or ones that I stripped the paint from with the right acetone. You can see some color differences between the originally-silver ones and the originally-another-color-but-now-stripped-ones, but I'm okay with that. The bottom group are the buckyballs I ruined with the wrong acetone.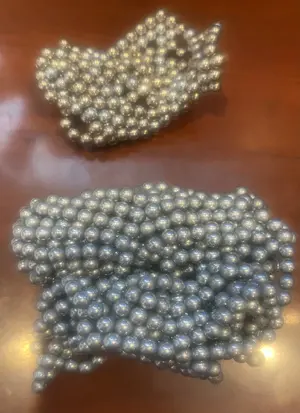 I'm so sad because these things are expensive. 216 buckyballs costs around $20-$30 and I just ruined about 800 of them. I've tried buying more (like those in the link I posted above), but they've changed since I bought these one over a decade ago. The new buckyballs are noticeably smaller and weaker. Because of their size, they're not compatible with the ones I already have, and because they're weaker, I'm pretty sure I wouldn't be able to make the larger structures I like to make with the ones I already have. So, I'm desperate to fix these ones that I ruined.
My wife suggested trying to spray paint them. I'm thinking of trying that. I can find a small metal sheet to put them on so that they're separated. Then I can try some super light and quick passes with some spray paint. I'll have to turn them over individually to do the other side - this will be very tedious, but it's the only idea I've got so far.
Anyone got any other suggestions?