Welcome to Autism Forums, a friendly forum to discuss Aspergers Syndrome, Autism, High Functioning Autism and related conditions.

Your voice is missing!

You will need to

register

to get access to the following site features:

Reply to discussions and create your own threads.
Our modern chat room. No add-ons or extensions required, just login and start chatting!
Private Member only forums for more serious discussions that you may wish to not have guests or search engines access to.
Your very own blog. Write about anything you like on your own individual blog.

We hope to see you as a part of our community soon! Please also check us out @ https://www.twitter.com/aspiescentral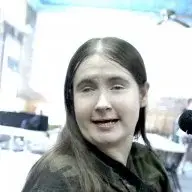 Post Ratings
| | Received: | Given: |
| --- | --- | --- |
| | 16 | 1 |
| | 3 | 0 |
| | 0 | 0 |
| | 2 | 0 |
| | 0 | 0 |
| | 16 | 0 |
| | 0 | 0 |
| | 0 | 0 |
| | 0 | 0 |
Gender:

Female

Birthday:

Dec 21, 1983

(Age: 35)

Home Page:

Location:

Occupation:

ROM Hacker (Not a paying job though)
Gamma V
Resident ROM Hacker, Female, 35, from Jenks, Oklahoma
I'm hyped for this year's Sonic Amateur Games Expo, to which I submitted a build of my in-progress Sonic 2 ROM hack, Sonic Legacy. Sep 29, 2017
Gamma V was last seen:

Mar 14, 2018
Loading...

Loading...

About

Gender:

Female

Birthday:

Dec 21, 1983 (Age: 35)

Home Page:

Location:

Occupation:

ROM Hacker (Not a paying job though)

Diagnosis Status:

Aspergers Syndrome - Officially Diagnosed

Enable Politics Forum:

I'm a legally-blind Aspie woman living with parents in Oklahoma. I don't have a job due to my inability to drive or even get a license, so I spend my days playing mostly 16-bit era video games, drawing, role playing, and ROM hacking Super Mario World and Sonic the Hedgehog 2. I also have a YouTube Channel where I do Let's Plays of classic games and the occasional amateur voice acting show-off.

FAVORITE TV SHOWS
Transformers (Pretty much every incarnations I've seen. This includes Challenge of the GoBots. It's part of the Transformers Multiverse.)
Bots Master
Robotboy
Futurama
The Zeta Project

FAVORITE MOVIES
Transformers (both the 1986 animated movie and the live-action ones, but the former is better)
Short Circuit 1 and 2
Wreck-It Ralph
Big Hero 6
Star Wars (original trilogy)
Star Kid

FAVORITE MAINSTREAM MUSIC ARTISTS
Backstreet Boys
*NSYNC
Will Smith
SWV
TLC
Boyz II Men
Destiny's Child

FAVORITE VIDEO GAME COMPOSERS
Hiroki Kikuta (Secret of Mana/Seiken Densetsu 3)
Yasunori Mitsuda (Chrono Trigger)
Jun Senoue (Sonic the Hedgehog series)
Tee Lopes (Sonic Mania)
Masato Nakamura (Sonic 1 and 2)
Yuzo Koshiro (Streets of Rage)

FAVORITE VIDEO GAMES
Super Mario World
Chrono Trigger
Secret of Mana
Seiken Densetsu 3
Sonic 3 & Knuckles
Sonic 2
Super Mario Land 2
Sonic Megamix (ROM hack)
Super Mario Bros. 3Mix (ROM hack)
Sword of Mana
Kirby's Adventure/Nightmare in Dream Land
Kirby Super Star Ultra

Interact

Loading...